To meet the increasing demand for LED backlighting in the industrial LCD market, Kyocera has developed a board line of TFT LCDs with LED backlights.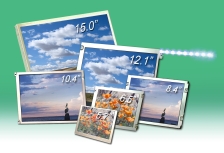 Our displays feature longer lifetimes (up to 100,000 hours), with front screen brightness levels ranging from 400 cd/m2 to 1500 cd/m2 for outdoor applications. Kyocera's LED-backlit LCDs offer numerous advantages over conventional CCFL-backlit LCDs, including:
No warm-up time at low temperatures
Lower power consumption
Higher dimming ratios
Do not require high-voltage and high-frequency inverter circuits
Significantly reduced electro-magnetic interference (EMI)
Contain no mercury, more environmentally friendly
Kyocera's LED-backlit LCDs are designed for a board range of applications, including test & measurement, factory automation, navigation and avionics systems, POS and ATM machines, and medical equipment.
For more detail product information, please visit:
Kyocera LED TFT LCD Product Info