In many applications, a cover glass or touch screen is required on the LCD module for protection or as a user interface.
Conventional adhesive methods leave a small air gap between the LCD module and the top layer causing diminished display performance ( poor contrast, high reflection, low color saturation, etc.)
The optical bonding process eliminates the air gap by affixing the LCD panel to the top layer with a UV curable liquid adhesive. As a result, it dramatically reduces the amount of interface reflections.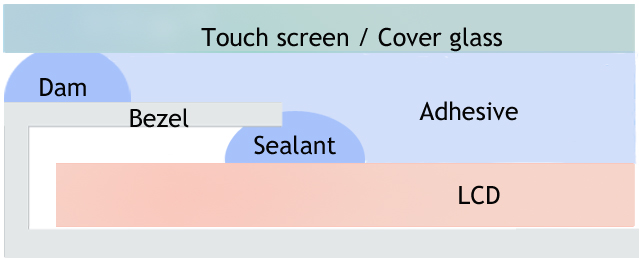 Why Optical Bonding
Optical Bonding (OB) technology dramatically enhances the front of screen performance with improved contrast, clarity and color saturation. Bonding the display and the cover layer into one piece, increases ruggedness and shock resistance as well as eliminates the occurrence of condensation and foreign materials that can result from a tape bonded perimeter assembly.
For applications like military, transportation, marine, medical devices and outdoor use, optical bonding is a great way to improve display performance and offer additional protection as well.
Optical Bonding Advantages
Kyocera's Optical Bonding Solution
We utilize state of the art equipment in our class 1000 clean room facility, located in Plymouth, MI. Our in-house capability and expertise offers a quick turn solution to the customer with full manufacturer warranty.
Optical bonding capability from 3.5" to 12.1"
We can bond custom cover glass with or without black mask, PCAP and gasket application
100% inspection
Quick Turn US Based Manufacturing
Please contact us for detailed information